~ 2 min read
Sharing too much?
I've heard a couple of rumours this evening that google may be launching a facebook app that allows your friends to see your search trends over time via your facebook mini feed. There's some discussion over on facereviews.com that anything like this exists, but for me it raises an interesting question about how much information people are willing to share within their own "social networks". Would I be comfortable with everyone knowing what I was searching for? Probably not at all – I don't want everyone to be clued in to all those random tee sites I'm able to find. Probably nobody would really be interested, so whats the point anyway?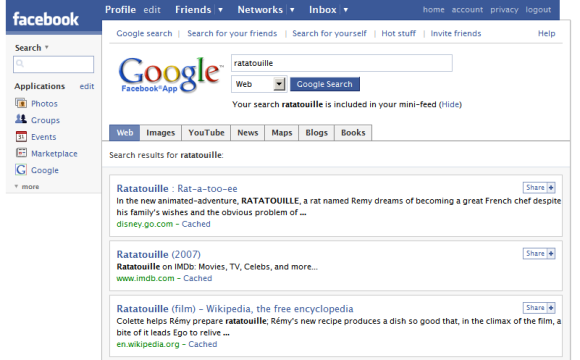 Image taken from Google Operating System
It also brings to mind an idea that I've been toying with for sharing how links between pages are made, where details of hyperlink clicks are captured to some repository somewhere. This would make it it possible for users to have a series of heatmaps upon any page to display details of common links that other users choose to follow from one page to another, and common routes accross the net to particular pages. Similar issues for whether or not takeup would occur, or the information is indeed useful to everyone exist also.